Cypress Cottage Back Bedroom Renovation
The latest project in the Cypress Cottage was the back bedroom.
Once the old paneling was removed, this is what the wall looked like. The previous owners added a closet,and used all kinds of junk wood to build the wall. Something had to be done about this wall.
Then DS and The Miller came to the rescue with some of their reclaimed cypress; and along with the finishing touches of Handy Friend . . .
the wall now looks like this. Much, much better, isn't it? QUESTION: Now, what to do with the closet door?
LilSis was actually here! And what a great help she was. After being given her choices of projects to motivate me on, she decided that we would paint the back bedroom.
We sanded all the old wood work on the windows and the door, primed it, and then painted it.
This photo was taken even before the paneling was removed from the walls.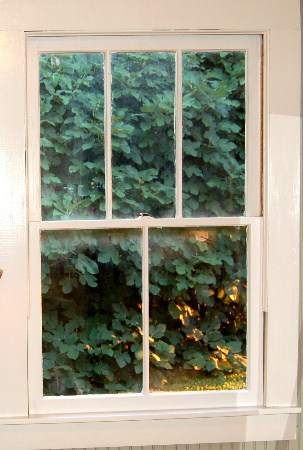 And look now. Don't the windows look better? (That's my lovely fig tree out there!)
And how about that door? I can't find a "before" photo, but his is how it looks now, all nice and glossy white–not a greasy smudge in sight!
Next, LilSis painted all the crown molding with two coats of primer and two coats of white paint. What a tedious job, but she loved it. Every second of it! Just ask her!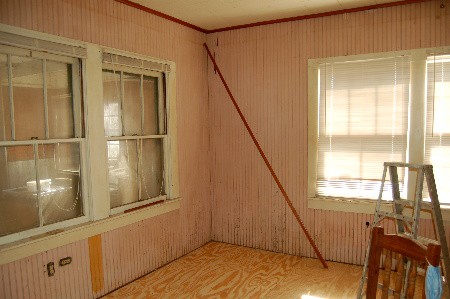 If you remember, the old beadboard was everyone's favorite shade of Pepto-Pink (pepto-dismal as Steffi so aptly called it)!
Here's how it looked, part Pepto/part new color.
And here's how it looks after. Lest you think this was a small job, let me tell you what it took to re-paint this old, painted cypress beadboard. First, realize these are actually tongue and groove boards, about 3 inches wide, with grooves in each board. That means, there were lots of cracks to be filled in with paint.
Even though we used a paint roller with a very thick nap, it still took two of us to get the job done properly, along with BigSis supervising and pointing out where the Pepto-Pink was still showing in the cracks. Anyway, one of us rolled the paint on, while the other followed behind with a paint brush, smoothing the paint into the cracks and grooves. And of course, it took two coats.
We had to reach way down inside our bellies to find the fortitude to stick to the task and not day dream too much about all the things we would rather have been doing with our sisterly time together.
We didn't even get to take a boat ride. That's so sad. I guess she'll just have to come back when we can spend the night in the Cypress Cottage together and play on the water the rest of the time!
Thank you, LilSis, for taking time away from your busy family life and real estate career to come down and give me a helping hand. Thank you, BigSis, for coming down and providing comic relief and some much-needed supervision!
Love ya!
B

W