Deloutre Switch visits the bayou!
Deloutre Switch, an old friend whom I haven't seen in 25 years, came down the bayou to visit. I was so enthralled by just being with her that I totally forgot to take out my camera and get some photos.
Thankfully, she had her camera, and here's one of her and hubby playing with their food . . .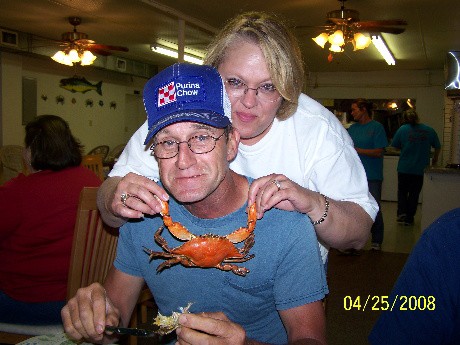 I can tell you how wonderful it was to see her after all these years and to meet her husband, but she can tell you what her impressions were of this area. We took a truck tour around the area, since it was cloudy and too late in the day to launch my boat. Then we sat in the yard and watched the birds while Deloutre played fetch with the big yellow dog. We got to see a scarlet tanager, too.
Maybe Deloutre will tell you about where we ate supper and what we ate! I'll just hold back the rest of the details and see if we can draw her out!
Of course, I couldn't even stop talking during the photo. We were having a little fun banter with the owner/proprietor of our local "dive"!!