Friday morning, Lil Sis, Termite, and I headed into a nearby lake to cruise around looking for fishy water.  We heard a rumor that there were some schools of trout in there swimming around, but turns out it was only a rumor!   The water was beautiful and it was a gorgeous day to be boating, but we only caught tiny trout that we threw back–certainly no tournament fish! But it didn't matter!  I was ordered to have fun, remember?
On the way, we saw several boats skimming for shrimp.
Right before noon, we headed back to Camp Dularge to get ready for our fishing trip with our own private guide, who likes to drive his boat in a rather unique way.
At our fist stop, the reds were running the bank; and although they were not big tournament fish, LilSis caught her first ever red fish, and I was so intent on trying to nail one that I totally failed to put down my rod and pick up my camera.
LilSis, not wanting to be pushy, I guess, didn't scream at me to "GET YOUR CAMERA, DUMMY!" so I missed the second red she caught also! Those KODAK moments got totally past me, and I really regret it.
After throwing her two keeper reds in the bucket,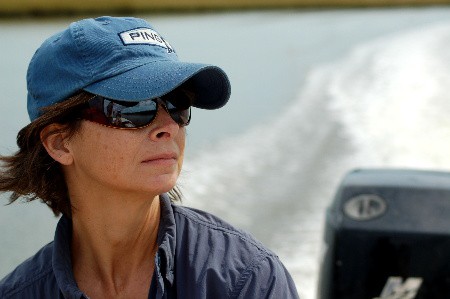 we pulled up anchor and headed to a spot where I might catch a big black drum like last year.  The wind had picked up and the dark clouds were looming overhead.
LilSis was taking in all the scenery, as she had never been this far south by boat.  There were lots of interesting things to see.
like this Louisiana Heron and Roseate Spoonbill feeding side by side.  The blue and pink were striking!

and watching them take flight together
Sights that really brought a smile to my sister's face . . .
and our guide leading us with his unique boat-driving skills.
The black drum hole didn't give up big fish to us this year, and the rains started closing in on us, so we called it a day early and raced back, trying to outrun the rain.  We did get a little cold and wet.
Even though we didn't catch any tourney-worthy fish, we had a great day on the water.  I think LilSis got to see a few more reasons why I love it here so much and why I stay despite the adversities.
And sometimes, there are just nice things to see along the way!
Thanks to our anonymous guide for catching live crab, cutting them up, and baiting our hooks; and for putting up with us, making us laugh and keeping us safe from the storms.
BW