How about a nice big slab of concrete?
As many of you know, we have been inhabiting the Miracle Bayou Tree House since fall of last year and waiting for the land to get dry enough to haul dirt and river sand, and for these heavy trucks to get back here without bogging axle deep in the process.
While waiting, our builder was in a serious motorcycle accident, breaking both arms and his neck, which prolonged the wait.  I could have hired another cement contractor, but we had a deal, and I keep my word.  It's been a long wait, but everything came together last week.
The rest of the dirt and sand were delivered, spread, and the pouring of the cement has been done.  The hard part is trying to keep Ti Du (the little black dog) from running around marking the wet cement with her paw prints.
Now, I'll let the pictures do the talking.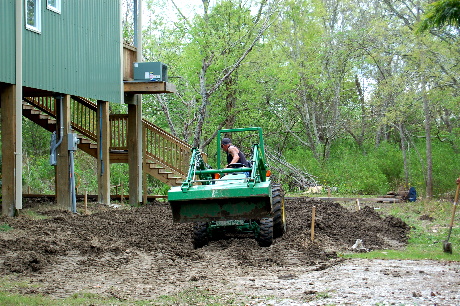 They are still working on this as I type and say we should be able to drive on it in about a week.  Hopefully, having this concrete under teh house will cut down on all the dust that comes in here.  Later, when I win the lottery, we might be able to screen in a little "seafood boiling room" downstairs in order to enjoy the outdoors without being carried away by the bayou mosquitoes and biting gnats!!
In the meantime, I want all of you to dig deep into your sofas and find all that spare change hanging around and cash it in for bills and mail the money to me so I can pay these guys.  Did you know that cement is almost as costly as gold these days?
The only big chore left to do now is get the rest of our belongings out of the old house and tear it down.  BW is not looking forward to that task, for some strange reason.
I'm just slab happy right now!
BW