Bayou Woman has a job.  Yes, you heard me correctly.  I have a job.  Not just any job.  I get to work with cool people and do cool things in my job.  Please try not to be too jealous when you see photos like this . . .
. . . in connection with my work.  Yes work.  I'll say it again W-O-R-K.  And guess who I work with?
This semi-shady character!  We were "working" as volunteers (HUH?) at a BTNEP volunteer cleanup of Grand Isle.   I kept looking around hoping to see Steffi there—I knew this was her favorite spot to surf fish and catch crab, too.  Alas, she was nowhere around.  I knew she would want to jump right in with the others . . .
collect her bright green volunteer T-shirt and get down to work.
There were mother-daughter teams . . .
There were wife and husband teams . . .
There was this really exceptional young lady (age 12) who came by herself.  She lives on the island and wanted to get involved!  Great gal!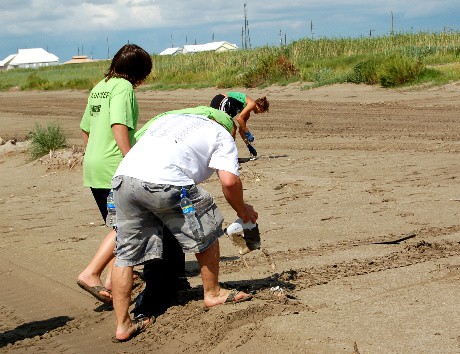 There was this very creative dad who used his T-shirt as a sort of "desert" wrap for his head–the sun was brutal.
There was these guys whose job it was to come and volunteer, as they are part of the  Conservation Corps.  If you're looking for something pretty neat for your young adults to do, check it out!  Oh, and how many Conservation Corps boys does it take to lift an empty hydrochloric acid drum onto a utility trailer?  THREE–two to lift the drum and one to pose for the picture!
Most people worked really, really hard bagging trash, sweating, and never complaining.
And then there were others who got to do really cool things like the above photo.
Everyone who can tell me correctly what Diane is doing in this photo will be entered into a random drawing to win their choice of a Community Coffee mug.
I can't wait to read these guesses!!
Ok, folks, bring it on!  (Oh, and Steffi?  Your State Park area is nice and clean and ready for your next trip!)
BW