Lessons from the Boiling Pot
Springtime down the bayou signals that it's time to enjoy not only the weather but one of our cultural trademarks–the crawfish boil.
The crawfish, a lowly freshwater crustacean, was once a food that only the poorest of bayou people would eat.  Now, Louisiana has a hard time producing 90% of the total consumed in the world, with about 70% of those being consumed right here in our state.  While growing up in north Louisiana in the sixties, crawfish were something we caught in the ditch and played with.  I had heard that some folks used them as fishing bait but had certainly never heard of boiling and eating them.  It was not until I moved to south Louisiana in the late seventies that I participated in my first crawfish boil.
It's amazing how something akin to a dark red bug that lives in the mud can become the centerpiece of festive family gatherings and be shipped around the world as a delicacy.  It just proves the old adage that looks can be deceiving.  But, looks aren't everything!
Along with the 2012 crawfish season has come several changes to our family.  The first of which is the fact that I acquired a daughter-in-law earlier this year.  Our second oldest son, Danno and the love of his life, Lil Red, eloped in Las Vegas.  Yes, it was a surprise, and there wasn't a lot of fanfare, but they are happily hitched nonetheless.  We have all welcomed her into the family, and I hope their love and devotion lasts forever and a day.  Danno is a tugboat captain and only six months away from having his "Masters of Towing Unlimited" license.  At 24, that is nearly unheard of.
Another very positive change is that our oldest son, Daboo, has recently moved back here from the big city life of New Orleans to be closer to the family and to provide support where needed.  We're happy to have him closer to home, and this crawfish boil was our first family get together at his new place.   Both he and Danno work for the same company.  David works as a U.S. Coast Guard licensed Tankerman on the biggest tugboat their company owns.  Maybe the next change for him will be to have deserving young woman capture his heart and make his life complete.
Daboo hosted our annual spring event at his new residence, and everyone chipped in to help, except me.  It was very nice to just show up and not have to do much of anything.  As I watched my children work together during the boil, I was able to sit back and reflect upon how they've grown and changed over the years and how proud I am of their accomplishments.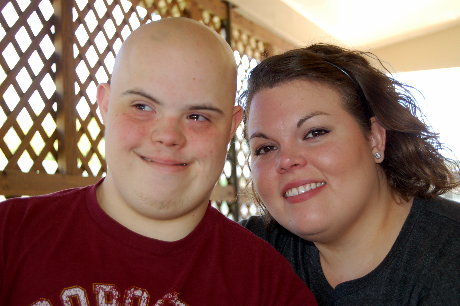 Dotter and MuzicMan, both amazing musicians, continue to share their talents and their love of music with folks of all ages.  As her day job, Dotter teaches the Talented and Gifted music program for Lafourche Parish public schools.  After school, she teaches private piano lessons, and on Sundays she plays piano and keyboards at church.  Then there is the occasional wedding, funeral, and summer musical to play for.
Daily, MuzicMan can be found teaching music to elementary students at a private school.  After school, he too teaches private music lessons.  Sundays find him leading music at two morning services and the children's choir practice in the afternoon.  And then, in his spare time (of which he has little to spare), he plays guitar and sings in Voodoo Bayou Band!
While Miah is not growing in stature, his mind is expanding by leaps and bounds. I am so proud of this young man as neither his height nor his label keep him from moving forward with his life. This year he enjoys Community Based Instruction, where he goes into the community with his teacher and classmates.  He has mastered riding the city bus, reading the menu and ordering his own meals, and making purchases at local stores using the "next dollar up" method.  He and his classmates plan a meal, construct a grocery list, shop for and purchase those items, and then return to the classroom to cook a meal and enjoy it together.  It is our goal for him to become as independent as he can become in order to be happy and well adjusted.  And I'm not exaggerating when I tell you that EVERYWHERE we go in our town, population 40K+, someone greets this amazing you man and calls him BY NAME.  He never meets a stranger and makes friends everywhere he goes.
And then there is the last pumpkin on the vine.  In the past six months, Termite has transformed about 99% of his baby fat into teen-aged muscle and has put that new body to work for the Freshman baseball team.  Now, halfway through his first season, he has proven himself as a starting shortstop and is learning how to pitch.  This is his first year to play on what he calls a "good team", and he has expressed to me more than once how good it feels to be part of this team.  As long as he continues to hold his own in his Honors classes, baseball will continue to be a big part of his high school career.  And since I believe baseball is the "game of life", if he continues to play ball, he will be well prepared for the next phase of his life, post-high school, whatever that might be.
This post didn't start out being about my family.  Rather, it started out being about how to boil a good batch of crawfish.  But the best-laid posts of BW sometimes take on a life of their own.  This tells me that somewhere out there, some of you are wondering about our family dynamics and just how things are going.  While this post is certainly not an exhaustive one about how fantastic I think my kids are, our family trials and struggles, or their new career pursuits, it's more about how to boil a good batch of crawfish than I first realized.
First, you throw your kids in the a pot of boiling life, add salt and spices, a few side items, and let them go until they are ready to serve to the world.
And I have to say, this batch turned out pretty darn good.
Suck the heads and pinch the tails!
BW