It's fig-picking time down the bayou, and as the comments on the fig recipe post show, lots of other places, too.
So, guess what I've been doing?  So far, I think we've picked about five gallons off the tree, about that many have hit the ground during the torrential rains, and about that many have been eaten by the birds and squirrels.  The old Fig Tree really produced some beautiful figs this year.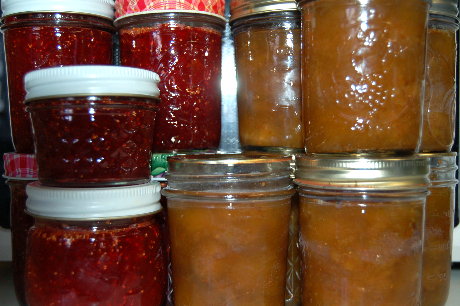 Seems like I'm always making fig preserves on my birthday, which I truly love doing.  It really is rewarding, and it doesn't require a lot of work for the reward.  So far this week, I've put up four batches of mock strawberry, made from figs using Jello, and a couple batches of whole fig, preserved the old-fashioned way of slow cooking with sugar and lemon.
If you have access to a fig tree or can buy a gallon from someone, go for it.  You will be so glad you did and your family and friends will be so impressed with the fruits of your labor.  A craftily-decorated jar of homemade jam makes a beautiful gift for someone who has been ill, or for a holiday gift, or just because.
I look at it like this:  When we don't have anything else, we will still have time–time to do things like canning for our families and others.  Even when I have nothing else, hopefully the Fig Tree will still produce, and hopefully I can afford the sugar.  If I don't have lemons, maybe I'll have lemon juice.  If I can make preserves each summer, I will always have something that I can share.  And that makes me feel really good on my birthday, especially.
So,  tomorrow, I will resurrect for the third time, our family fig preserve recipe and hope that everyone will try it again this summer and add their own twists and turns to it.
Happy Birthday to ME!!!!!
BW