Punching out the punch list on Camp Dularge!
BB and I put a hurtin' on the old punch list this week.  She just inspires me to somehow have more energy.  Believe me, going up and down those stairs is a workout!
I don't have any photos of us hard at work, but I do have pix of the fruit of our labor!
This was an awkward corner near the back right of the slab and behind the sewage treatment plant–not a place where I want a lawn mower passing through.  Solution?  Flower bed.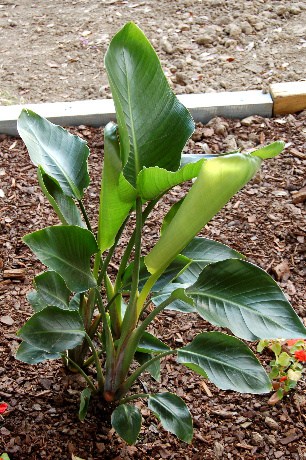 The center feature is a white Bird of Paradise, which I'm looking forward to seeing flower.
Another feature is this gorgeous Azalea.  I don't think BB knew the other Azalea died a slow death, having been removed from its spot of many years.  I haven't told her yet.  Maybe she'll read it here.  This one is a dwarf, I believe, but I don't mind.  It's a great replacement.  And just so you'll know we weren't having too much fun–it was very hard work breaking up the clay and conditioning this soil to turn it into a flower bed.
We built this fish-cleaning table, with a gut bucket hanging on the end.
On the other end of the table is this handmade rod rack.  Just place your fishing rod in the slot so it will stand up while being hosed off.
This rod rack is upstairs on the back deck in case you want to keep your rods near the back door overnight.  My friend Shawee made these from old sinker cypress.
Today I recovered the dining room chair seats in gator hide (faux, okay).  BB wanted to learn to do this but she had to leave before we got to it.
This dinette set is very well traveled.  It's seen a lot of wear and tear, too, between whatever families owned it before I bought it in a second-hand shop back in 1981 and refinished it.  Afer hurricane Juan flooded my home in 1985, LilSis took it to her home because I could not stand for it to get ruined.  And then a couple years ago, I got it back.  It's been in storage just waiting for the right home to fit into.  Voila!  I think it looks right at home here.  So now, the dining room is finally really finished.
The living room in the evening light is as inviting as ever.
I just want to say thanks to everone who helped with the cypress house–during renovations before the flood, during cleanup from the flood (when I was a zombie), and renovating again after the flood!  You know who you are and here's a big bayou thanks from the bottom of my bayou heart!
READY FOR BUSINESS!!!
BW