First Wetland Tour of 2014
We're approaching the end of a very long, hard winter.  Of course, down here in bayou country, we can't complain about snow-covered driveways or frozen ponds; but any time the temps dip below freezing and stay that way for more than a day, we pretty much go into shock and hibernate as much as possible.  
As far as business goes, it's been a very slow winter, because the weather just never cooperated with the days that tourists actually wanted to come down and take a tour. As a result, it's been a long time since I've posted up pics from a wetland tour, and it's high time the newcomers get to see what I see when I take my boat out for a casual spin.  
I'm so happy to say that this past weekend we finally got a break from temps in the 30s and the rainy days, and even the wind settled down enough for me to launch BAB (my big boat), and get her oil flowing after a long time sitting up.  
Even though official spring is a couple weeks away, and nothing is greening up yet, my new friend, Anne, and I were able to see some pretty neat things out on the water this past weekend. Wanna see? 
We saw a total of four alligators, which surprised me since I thought they would still be brumating on this overcast day.  The sun was intermittent, and like us, I think they were just trying to catch a few rays in hopes that Old Man Winter was departing for good until December.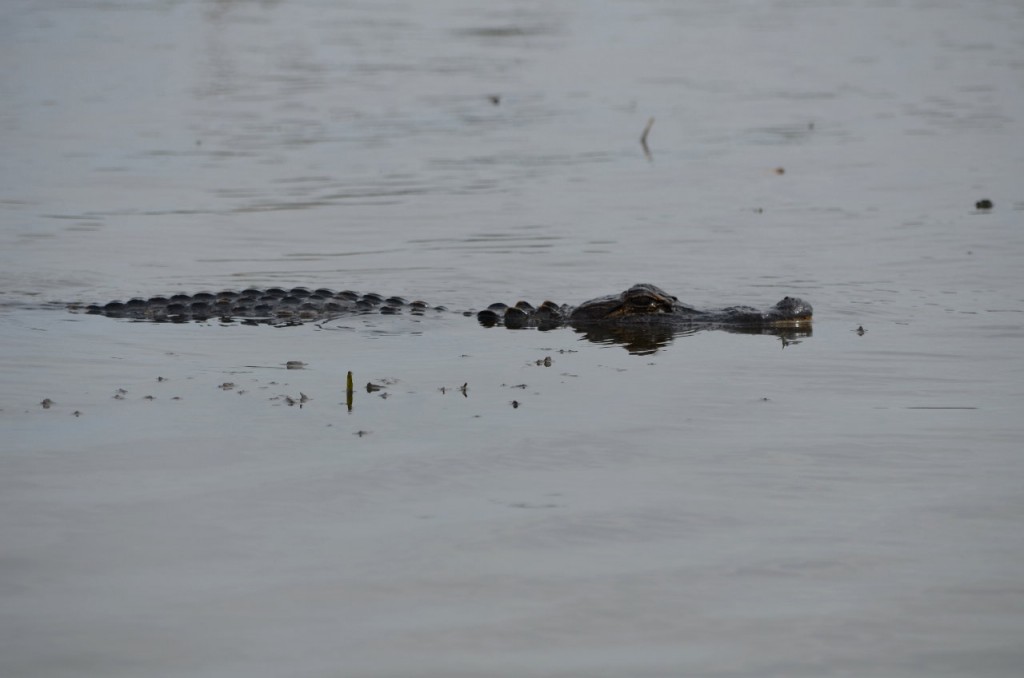 First off, was this little guy.  About four feet long, he seemed as curious about us as we were about him.  He actually came off the bank to have a look at us, and after being verbally coaxed by both of us, he showed us almost his entire body.  It's not common to see an alligator's entire body out of the water–usually we just see their heads.  You can tell from the drab colors that the sun was behind the clouds at this point.
As we ventured on toward the swamp, we were greeted by this gorgeous fellow.  I was so excited to see Mr. Green Heron since I have not had the chance to photograph him for a couple of years.  Oh, and you'll never convince me that this isn't the same green heron that I've been seeing in this same location for the past several years.
Although the marsh has been burned back, and it looks like a scorched prairie, the red of this swamp maple stands out magnificently against the other drab colors of winter.  The cypress trees have not put our their green needles yet, but it won't be long now.  In a couple weeks, the swamp will be alive with green and this long, cold winter quickly forgotten by man and beast alike.
In another location, we spied this solitary roseate spoonbill, just standing on the bank as though waiting for a ride (or a flock to come by).  He stood there very willing to pose for us, and we were able to coax him to look right, left, up and down!
Not far from the spoonbill, this hungry-looking fellow sprang up.  Not in any hurry to get away from us, he swam alongside the boat and eventually gave us a big smile with his not-so-pearly-white teeth.
And watching it all from his perch was this magnificent male brown pelican.  Well, to be quite honest, we rudely interrupted his Saturday afternoon nap while we were talking to the spoonbill! But once he saw that we were taking photos, he decided to get in on the action.  It wasn't hard at all to get him to ham it up for us!
Well, folks, that's the lastest report from way down here in southern Terrebonne Parish where the crawfish are hitting the boiling pot and the dewberry vines are already starting to bloom.
If you're new here, I'd like to welcome you and encourage you to leave a comment.  With 75.8 million WordPress blogs to choose from, I feel very fortunate that you landed here!  That's why you should go ahead and ask me a question or say something nice so all of us can get to know you, too!  Oh, and I love it when you ask questions, because that way, I get to share more about our unique life in the Louisiana wetlands.
Come on spring!
BW