Saturday morning weather was horrible for anything other than staying snug inside.  But if I wanted to get any kind of story, I would have to pull myself out of bed in that warm, cozy camp and brave the elements.
My plan was to head to the island for breakfast and just see where that would lead me.  I grabbed my notebook, jacket, camera bag and I was off.
After breakfast, I drove the quaint inner streets of the island, wanting to see what kind of destruction had been caused by Hurricanes Gustav and Ike.
Grand Isle actually served as the "barrier island" for coastal communities north and northwest of there, including mine, during Hurricane Gustav.  The wind moved many of the sand dune levees inland, covering yards and roads with sand that has not yet been removed seven months later.  However, the island interior looked pretty good considering the beating it took.
Several years ago, I attended a birding weekend in Grand Isle.  It was the first time I had ever gone for the "fallout" of the migratory birds making their way from across the Gulf of Mexico north.  The first land they see is the barrier islands along the coast; and since most of the islands are gone, Grand Isle is the first one they come to, and they are exhausted, hungry and thirsty and they literally fall out of the sky.  Many don't survive the journey; but those who are strong enough to survive find backyard feasts–tables laden with seed, red mulberry trees, bird baths, and water hoses misting in the trees for birdie showers.
I passed by the backyard where I first learned to identify many species of migratory birds and even took a sneak photo of our then governor doing some birding of his own.  The yard looked storm ravaged with no signs of feeding tables, but just a little further down the street . . .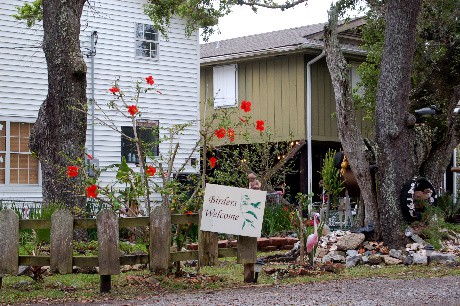 was this pretty little yard, waiting at the ready for both birds and birders alike.  The sign says, "BIRDERS WELCOME".
And if you've been to Grand Isle but never bothered to ride down the little streets where the full-time folks live, well, you've missed a special treat.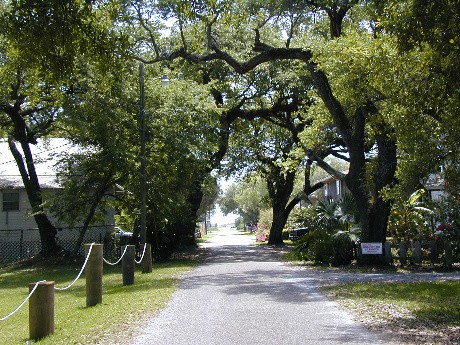 Because in their prime, this is how those back streets look.  This photo is taken from the back of the road looking toward the main highway and beyond that is the beach.  Just gorgeous.  I could get lost in a world of make believe back here.  (That's another blog post!)
Enough day dreaming.  Back to business.
The night before, D-Wray had told me there might be surfers taking advantage of the super high winds that would not be conducive to the poor kayak fishermen who would be fishing competition next morning.
I went in search of surfers, and I was greatly rewarded!
This is the first one I came across.  Met him the parking lot while he warmed up next to his car.  Uh yea, it was kinda cold to be surfing, but according to him, the waves were "offshore, head high" and that is AWESOME DUDE for Grand Isle.
I don't know if he minds my saying so, but this is the commander of the Grand Isle Coast Guard station.  I thought that was kinda cool!  He remembered the dolphin rescue photos I took of his crewmen last year.
Well, was that just another "small world" serendipitous moment?
I confess. I have no idea who this surfer is.  He just looked so good carrying that board, that I momentarily lost my mind, slapped on the zoom lens and basically invaded his personal space.  He was clueless, but he was cute!
When I snapped back to my senses and turned around to head toward a concentration of surfers, this HUGE surfer came running out of the water and walked in front of me so fast I could hardly catch up to him without breaking into a run, so I hollered,
"Hey!  I'm trying to catch up to you!  Hey!  Could you please slow down?"
The handsome young man turned, hand on chest and asked, "Who?  Me?"
I gave him the quick "I'm working on a piece for the Advocate schpeel," and he seemed very willing to talk and low and behold, it's a very small world again.
Exchanging introductions, I learned his name is James Walker and he's from my nearby town.  He's 40 years old and admitted through shameful laughter that has been surfing at Fourchon Beach and Grand Isle for 20 years.
He gave me the skinny on surfing there and taught me some of the terms and pointed out what some of the guys were attempting to do out there.
And then he had to rush off because, "These waves won't last all day.  Gotta catch 'em while we can."  And off he went into the surf from whence he came, just like some black-skinned merman.
Then my zoom lens and I had a veritable visual feast!  It was a blast watching these guys catch a wave and I was sitting on top of the world!!
James Walker getting ready to ride a wave.
At 205 pounds, surfing is quite a challenge for James, but he loves it.
Hang in there, baby, hang in!
After the riptide carries them far enough east where the waves run slack, they get out of the water and walk the beach back west about 300 yards and do it all over again.
It was time for me to go see what other kind of trouble interesting stuff I could find for this piece . . .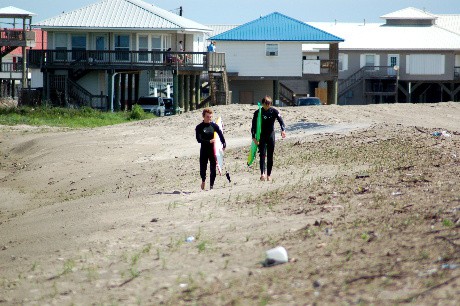 As I was leaving, these youngsters were arriving, so I threw a little surfing lingo at 'em, "Hey dudes!  Epic day! Off the head, shore high!"
They just shook their punky little heads, shrugged their shoulders and walked on by. Smart kids.
To be continued still . . .