A bayou, a boy, a dog and some decoys.
This is the golden Lab that "found" this boy in his very own yard on a lovely spring afternoon.
"Hey Mom, watch what Sis can do!"
So, he throws the little stuffed duck way out,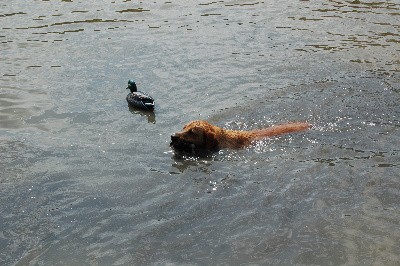 and she retrieves it every time–without fail.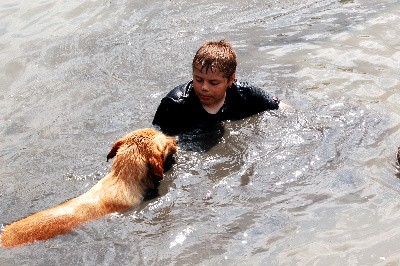 And she brings it right to the boy and gives it to him. These dogs are amazing animals. They've been at this for two hours, and she never seems to tire of retrieving this toy duck for him. I am told that Labradors can't help themselves–they love the water. They even have webbed feet to help them swim.
This really is a dream come true for this boy. He was given his first ever shotgun this past November, and both his older brothers took him duck hunting, but they had no dog to retrieve the ducks. The way I understand it, the hunters hide in a duck blind, shoot the ducks, and leave them where they fall. At some point of lull in the action, the retriever is sent out to get the ducks and bring them back to the master.
The boy is thoroughly convinced that this is now his dog and that she should be allowed to stay. "Sis" slept in his room last night, but I'm not sure about her name. I'd like to call her "Jaune", which is the word for yellow in French.
What do you say about her name? And should we keep her?