We are the Champions, Part 2
If you are new to this blog about Life in the Louisiana Wetlands, it's time you know that once in a while I deviate from the main theme and purpose to bring you what I think might be an inspiring story from a different sector of life.  This time, it is about our son with Down's Syndrome.
About this time last year, he graduated from high school and informed me that he wanted a cooking class.  When I wrote last year's post about his high school graduation, the plans for his cooking class were in their baby steps.  To bring you up to speed, we were met with almost no resistance from the school system about allowing him to enroll in Terrebonne Career and Technical High School for three hours each morning.
The most negative thing we were told was that the paperwork might be a bit tricky because he had already graduated.  Well, these children can attend public high school until they are 22 years old, and at the time he was 20, with two years of eligibility left. The Food Service program in which he was interested is a two-year program, so this would be perfect for him. Determined to not let a technicality like paperwork deter us, we re-enrolled him in high school and received all the necessary permissions to further his education. As far as we know, he is the first student with Down's Syndrome to attend career high school in this parish.
Off to Career School
By mid-summer, everything was set, and Miah started in the Food Service program in August of last year.  His amazing instructor, Mrs. Donna, has an older brother with special needs and is the key to his success in her class. She and the para-professional, Mrs. Catina, are both angels on earth to us.
Class instruction began with cleanliness and safety in the kitchen and moved on to basic tools of the kitchen, what they are for and how to use them in basic recipes. Miah has learned so much, and we can't thank both Mrs. Donna and Mrs. Catina enough for their enduring patience with a young man who can't always express himself clearly and who honestly hates written tests. They have really gone above and beyond, because it has not escaped us that he requires an extra dash of time and pinch of patience in the cooking lab, too. So, for our entire family, let me say a big public THANK YOU from the bottom of our hearts right here and right now!
Making the Grade
Miah proudly brought home a grade sheet stating that he made the A/B Honor Roll this last grading period, and we are just as proud of him.  Not only that, we are so pleased that the Special Ed Department of Terrebonne Parish Schools, the principal at the Technical and Career School, and his teachers at both schools have been so willing to work with him and give him this opportunity.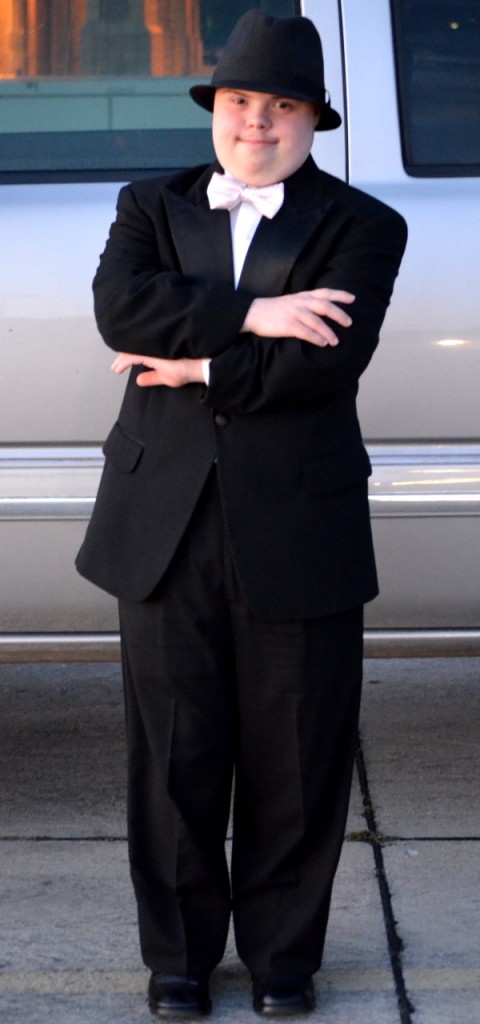 During the spring break, I took Miah out for a very special breakfast before going to get him fitted for his tuxedo for yet another prom.  The restaurant, Coley's Cafe`, sits in an old house in Houma that has been refurbished and redesigned. As we sat there waiting for our meal, he was looking around at the place, and I could tell his wheels were spinning.  I asked him if he liked the place, and of course he said yes. I said that if he finishes his Food Service program, maybe one day he could work in a nice place like this.
He sat thoughtful for a moment, cracked a big smile, and put his hands up in a gesture like a big marquee and said, "Jeremiah's Place".  Who knows?  Maybe he is prophetic or just a big dreamer, but it made my heart smile that this challenged young person was thinking ahead. Maybe one day, he will have a little cafe` of his own.  A mother can dream along with her son, right?
Well, if his last report card and the above certificate are any indication of what he can accomplish, I just really believe with a little help from family and friends, he will achieve his goal of working at, and possibly owning, his own cafe` one day.  Don't you?
Winning an Award
Let's back up a minute.  Are you wondering why he was going to prom again?  I mean, he went when he was a senior last year.  Well, this is why . . . .
The graduating class of 2014 elected him Most Unique Boy, and he was very excited when they called his name during the awards ceremony at prom that night. Their doing so says something about the caliber of those students, would you agree? He insisted on wearing his banner to school the following Monday.  Sure, why not?
This journey of rearing such an outstanding human being continues to reward us daily with blessings exhibited by his view of life.  I'm not sure what life has in store for him after he completes his second year of Food Service in 2014-2015.  But whatever it is, we know he will tackle it head on and touch everyone in his path along the way.
With great pride and joy,
BW