Another true tale of bayou life!
Lest anyone think that all I ever do is relax in my boat, let me add that in order to maintain my captain's license, I must spend required amounts of time on the water running my boat. There are days when it would be much easier to just stay home and not get my boat ready to go, and all that requires. And then go fuel it up, haul it to the launch, launch it, and then do the reverse when the trip is over. No matter what the purpose of the boating excursion–eco-tour, fishing trip, or relaxation–it does require work. With that said, I'll go on with my tale . . .
It was another morning in the marsh, just Termite and me. Last week, Termite and I came upon a school beautiful redfish dashing here and there in the clear marsh water, but all we had was a camera; and the underwater photos didn't do those gorgeous fish justice. This time, we were armed with our fishing rods, baited with a simple lure called a "weedless spoon", designed to lure redfish in the grassy water and not get hung up.
This trip, we were ready to bring in at least one for the grill.
But first, we enjoyed some of the treasures of this freshwater marsh . . .
There was the occasional meandering gator . . .
And this precious Marsh Hen family, out for their breakfast swim . . .
And then Momma Marsh Hen warning her babies to hide in the marsh grass. These babies were not with her last week, so we can assume they are a little under a week old, and already excellent swimmers and very obedient.
Once Termite got us to the Redfish Pond, we cut the engine and let the gentle wind push us over the mesmerizing underwater world . . .
of mystical marsh grasses . . .
and shells resting peacefully on the bottom . . .
and then out of nowhere came a pair of bronze beauties . . .
one of which Termite caught on his silver spoon. The color of this fish is indescribable, but this photo nearly does it justice.
Just as the fishing slowed down, my phone signaled me that I had a new text message from Danno saying his tugboat had just come across Lake Decade and was heading toward a nearby canal. He had no idea we were in the marsh, very near Lake Decade.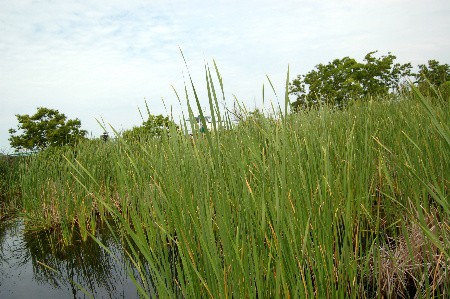 Moments later, we looked up over the levee and saw something. Do you see it, too? Look closer . . .
It looked like the wheelhouse of a tugboat. Could it be? In no time, Termite had the engine cranked and wound us through a marsh maze to reach the levee just in time to see this . . .
A quick phone call to Danno confirmed that he was closer than we realized! They were going to a nearby tank battery to take on some "product".
No sooner had we hung up than I asked Termite if he knew the way to the canal, and he said he did. Sure enough, he wound his way through obscure twists and turns, around cat tails higher than we could see.
In no time at all, there we were . . .
visiting with Danno on his boat and we on ours. It was a precious moment–not one that could be reproduced any other way–an event Termite will no doubt remember for a long time. He truly impressed me with his navigational skills, sense of direction, and ability to take charge.
Again, thanks for sharing in this little facet of life in the Louisiana wetlands, where a mother and son can catch beautiful, delicious redfish for supper within a quarter mile of something as industrial as a tank battery. This place supports such magnificent wildlife with rich petroleum flowing over, under, around and through her, but those relationships are not entirely symbiotic, in that the oil production continues to threaten an environment already deeply devastated.
But it's home, and we love it.
BW