Copperhead Studios and the Cajun Copper Queen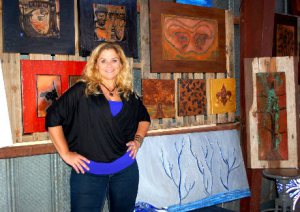 Before you ever step inside the door of her shabby-chic studio-workshop, the name Copperhead Studios conjures up Medusa-like images of the owner and curiosities about what venomous things she houses behind the sliding doors.  Rest assured, though, that once you've been bitten by this copperhead and her artwork, you'll definitely be back for more.
With a magnetic personality and enough talent and creativity in her pinkie to last more than one lifetime, professional artist Joycelyn Boudreaux is what we might a call reptilian renaissance woman of sorts.  When I asked her why she chose the name Copperhead Studios, her answer was quick and direct, just like the bite of this native viper, "I'm a lot like a copperhead.  I never go looking for trouble, but when it comes my way, I handle it."
Her personality is not only reflected in the name she chose, but also in the works she creates at her studio.  Once located in her home, the business has grown and been relocated to a warehouse in the heart of Houma, Louisiana, where the walls are adorned with her magnificent one-of-a-kind copper wall art–etched images of jazz musicians begging a closer look, and cypress trees drawing you deeper into the swamp.
She first learned the skill of creating patinas on copper for kitchen designs, including sinks, range hoods, and back splashes while living in Florida.  It didn't take long for her artistic juices to flow in a different direction as these patinas expressed themselves to her in voices of creative challenge.
"Each piece has its own personality.  I never know what I'm going to get when I start out.  I work with the patina, and then I let it sit to see what the air (oxidation) will do to it."  She explained how some pieces come together right away while others take longer.  One piece of copper sat in her studio for two years before the oxidation process brought the patina to perfection.  The process is mystifying and unpredictable, which makes it difficult for her to promise a commissioned piece on a certain deadline.  "This process can't be hurried.  It takes time to get it right."
While the copper patinas fueled her creative instincts down in Florida, there was a deeper desire fueling a need to return to her native home.   "It was like the cypress trees were calling me with an irresistible song.  I was dying to move back home to the bayou."  That's easily understandable, since she grew up along the banks of Bayou Lafourche in the peaceful community of St. Charles, in a tight-knit Cajun family.  Her father was a generational sugarcane farmer, and her mother was a school teacher, both now retired.
Just as our interview was starting, a female voice with a Cajun lilt echoed off the studio walls.  It was her mother stopping by to see the recent changes Joycelyn had made to the place.  And just like a typical Cajun mamma, she brought along a gift–Satsumas, freshly picked from their family orchard, saying, "Oh, this cool weather makes these Satsumas so sweet.  Here, y'all want one?"
Once our visit resumed, Joycelyn explained how, after her return to native Louisiana, some folks couldn't understand why she came back and didn't set up shop in the larger, more artsy city of New Orleans.  "That's easy.  Houma might not be the biggest city, but I knew this is where I needed to be–close to my family, because family is very important to me, and close to the bayou."
Steeped in the traditions of family and hard work, Joycelyn's Cajun spirit and passion for the bayou are displayed in all her pieces.  Two years ago, on a visit to the family farm with her father, she salvaged some beautiful old cypress boards from the barn her grandfather had built decades ago.  In her resourceful way, she now incorporates those woods into her works of art, and every piece has a story.  Like every true Cajun, she is a story teller, her stories so captivating, they add a certain life to the pieces, making them even more desirable.
When I asked Joycelyn what kind of artist she calls herself, she stated emphatically that she is a "professional artist", meaning, this isn't something she does just for fun, although you can tell she enjoys her work, pouring her heart and soul into each piece.  With three years under her belt as a professional artist, the sale of her work supports her four beautiful children–three daughters and a son ranging in age from eleven to sixteen.  And is she busy?  Busy ain't the word.  She creates while they are in school and cuts her work day short to cart them to all their after-school activities.  And when it's necessary, she might find herself working late hours following up on a new inspiration or putting the finishing touches on a commissioned piece, with her parents always ready to lend a hand with the children.
Most artists like their quiet and solitude, and while she agrees that it's necessary at some point in her work, she always finds inspiration from those who visit.  "My studio is an open door.  I love it when people drop by.  There's a spirit of freedom here.  I've had visitors from Canada, Texas, Colorado, and Florida come to see my work, and they weren't coming to Houma for any other reason.  They were visiting New Orleans or Baton Rouge and came down here just to see my pieces in person."
How in the world did folks from so far away learn about her work?  She answers, "I've been on Facebook since it was just a paperback novel!"  Now, she is a Facebook Guru, having kept up with all the advances and changes, using its full potential for social networking to promote her work.  Not knowing where she finds the time, she helps others establish a web presence on Facebook, teaching them how to get the most traffic and exposure for their businesses and clubs.  Pulling out her laptop and opening her Facebook page, she quickly showed me a couple things that could be done to drive more traffic to my business page.  It's her way.  She just can't help herself.
Despite her abundance of natural energy and enthusiasm for life, her batteries do require an occasional recharge.  Considering she is so attached to her bayou roots, it should come as to no surprise that fishing is her respite.  More specifically, she enjoys kayak fishing and has been doing so since fishing kayaks first came out.  "I just do old-fashioned fishing.  I throw my kayak in the back of my truck, drive down the bayou, put in at the landing, and off I go.  I fish with dead shrimp and a hook and catch all the reds I want.  But understand this, I HAVE TO FISH.  It's my escape.  It's how I keep my sanity and come back here and do what I do."
Not only does she create unique pieces of wall art, she has expanded into jewelry making using her copper.  Sometimes, a larger piece of copper never "turns" just like she wants, but she has discovered that in smaller areas, she finds the perfect patina. Those perfect smaller pieces of copper become pendants, bracelets, and earrings.  I asked her to explain the process without giving away her trade secrets.
"Oxidation, or air and humidity, will continually change the patina on the copper as long as I let it sit.  Once I get just the patina I'm looking for on a piece, THEN I lacquer it.  After that, it won't change, because it's sealed, preventing the air from getting to it."
Just like the copper she uses as her canvas, Joycelyn is ever-evolving.  Her copper art techniques have gone from sketching, to burning, to adding wood, paint, and various textures and backgrounds.  She's inspired by the world around her–the native cypress trees, the sun, the moon, and the fish she catches.  In her future, she sees opening up her studio to musicians and hosting "Art and Jam" nights where folks can enjoy good music and experience unique art.
What other fabulous things this passionate artist might reveal in the future is anyone's guess.  But this writer is certain of one thing:   We will never see a final coat of lacquer on the life of this ever-changing artist, Joycelyn Boudreaux, the Cajun Copper Queen.
For more information about the artist and to purchase her work, please contact her:
By Phone:  321.231.2721
By E-mail:  copperheadstudios@gmail.com
By Web:    joycelynboudreaux.com
Be sure and "LIKE" Copperhead Studios on Facebook.  If you care to, please leave a comment saying you heard about her here on BW, and we will both be very grateful you took the time!
©2012 W.W. Billiot.  No re-posting allowed.  All rights reserved.  May not be used, copied, printed, or posted without author's written permission.