With the turmoil of Hurricane Isaac behind us and the "Ghost of Isaac" threatening to re-enter the Gulf, let's ignore all that and once again reap the benefits of a local French-Cajun gentleman's green thumb.  Since we can't actually stroll through his yard and garden today, let me bring the memory of his spring garden to you.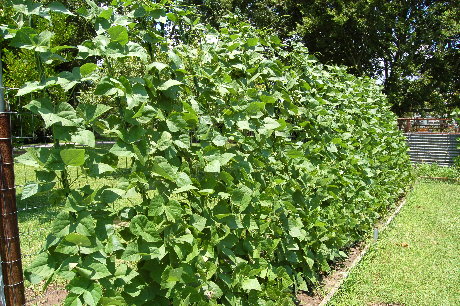 These eggplant blossoms are just so beautiful to me.
I wonder why they call this an eggplant?  It looks and tastes nothing like an egg.  Hmmmm.
I've seen a few gardens in my time, but I have never seen anyone grow onions this pretty.  And they are the size of the "medium" onions at the grocery story.  Just amazing!
This old sugar-boiling kettle is a piece of local history.  It actually came from a farm not far from Camp Dularge where a farmer used it to boil sugarcane juice into cane syrup for this community.  This resourceful gardener has turned it into a little goldfish pond–a beautiful garden feature, long before everyone had to have a pond in their yard.  In the background, the white and black containers are sections cut from long lengths of industrial plastic conduit that were scavenged from a trash pile.  Industrious, yes?
Aren't these green tomatoes beautiful?  They were about four inches across, and once ripe, as delicious as they are beautiful.
These are called "burpless" cucumbers; and I have to wonder if they are not the same as the fancy English cucumbers sold at the grocery store?  Does anyone know?
______________________________________________________________________
I hope you enjoyed our little walk together.  I know I did.
While these photos aptly represent this garden, what they really represent are the fruits of this man's labor–of his complete devotion to his craft of working the soil, organically enhancing it, choosing the right cultivar of each plant for this south Louisiana climate; the dedication to weed, till, prune, and hand pick the bugs and worms from the leaves of each plant.  He does so with great vigor and love for what he does, and in the end, as a show of love for his family who benefits from this garden.  I've been there when he has brought baskets of vegetables to the back door for his wife, saying, "Look what I've brought you, Mary!", in his sing-song French.  And every time, she is as excited to receive as he is to give, even though his work is over and hers is just beginning–the work of cleaning, paring, blanching, and either canning or freezing the excess for meals through the fall and winter.
These are the rhythms of one amazing couple–the rhythms of the bayou, like the ebb and flow of the tides, consistent, to be counted on.  What else in life can we say those things about in this, the twenty-first century?
I leave you to ponder that question and to consider an upcoming post wherein I will be asking you to search your memory banks and answer a question for me.  And of course, there will be a reward at the end of it, well, for at least for one lucky reader!
Until then,
BW