Pyrates in the Cypress Swamp!
As you might recall, Kim the jewelry maker launched her new Etsy site here last year by giving away a very stunning garfish scale earring and pendant set.  The winner of that set was a fairly new reader, Capt. John Swallow.  Kim exchanged a couple of emails with the good captain, shipped him his prize, and related to me that he was a very nice and interesting fellow.
Later, I received an email from Capt. Swallow in which he included a link to something called NOLA Pyrate Week. First off, I thought maybe he could not spell, but when I asked him about it, he shared the evolution of the word and informed me that this was indeed a more historically correct spelling.
When I visited the link, I learned that Capt. John Swallow and his quarter master, Seika Hellbound, started this very unusual pyrate event back in 2007.  Using history, culture, music, and authentic period clothing, they raise funds for and increase awareness about the people and wetlands of coastal Louisiana.
Their not-so-very-pyrate-like slogan says it all:
"Take what ye can – GIVE something back."
That is why I now refer to them as my Philanthropic Pyrate Friends.
Capt. Swallow invited me to be his guest at the New Orleans Bookfest at the Audubon Zoo and sell and sign copies of my children's picture book, Before the Saltwater Came.  I had the pleasure of sharing the table with an impressive new author, Jake Webber, with his first book, Lafitte's Black Box.
The following week, Capt. Swallow and Q.M. Hellbound kicked off their NOLA Pyrate Week with a Friday night parade in the French Quarter, with pyrates walking the old streets, throwing beads and doubloons.
The following  Saturday and Sunday was spent at the Pyrate Marketplace, located outside the Aquarium of the Americas, with craftsmen and women selling handmade items including jewelry, ironwork, leather work, and books.
I'm not sure what else those philanthropic pyrates did throughout the week, but they ended it with a drive down the bayou last Saturday.  And I wish you could have seen the faces of the people at the marina and heard the comments they were making.
Things like, "Ahoy, matey, can I take yer picture," spoken in their best pyrate lingo.  I thought at one point there would be a boat wreck at the landing with all the heads turning and doing double takes.  Some of the remarks were just downright hilarious, with the pyrates laughing the loudest.
I asked them if they always draw so much attention everywhere they go, and the answer was a definite YES!  And I can certainly see why.  Three more authentic pyrates I have never before seen.
There was Captain Jack Sparrow, a very quiet, pensive pyrate with a swagger indicating he had a taste for the rum (even though he had not been drinking at all).  And there was the big one who goes by the name Irish and hails from Ireland, speaking with a genuine brogue.
Irish impressed me with his eye for the birds, in spite of the fact he carried a substantial weapon called a Blunderbuss, which is Dutch for "thunderstick".
He explained that in lieu of musket balls, the pyrate would fill the gun with shards of glass, tacks, or nails.  Then, as they approached another ship, he would hold the gun down at hip level and would blast the ships-men and overtake them.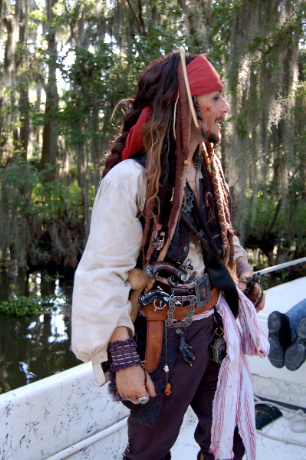 We eventually found our way up into the cypress swamp, where we drifted under the moss, listening to the sounds of frogs, birds, and gators.  We pulled into a gap in the cypress knees, sat and talked for a long while.
These city pyrates were taking it all in, asking questions about the plight of the vanishing wetlands of south Louisiana while I got lost in photographing them.
They brought with them a young Creole woman whom they met at their marketplace the weekend before.  Her meeting of the Pyrates encouraged her to dig deeper into her Barataria ancestry, where she might find out more about her ancestors being privateers.  Who knows?  Some of her kin might have even hung out with Jean Laffite, the famous pyrate of the Gulf Coast.
It was my pleasure to have my old deckhand, Termite, on board for the journey.  And just in case there might have been a mutiny, I left the GPS at home so that these pyrates would not be able to commandeer my ship and escape the secluded swamp.  We would have been stuck there (they would have never found their way out without the GPS) until the Swamp Dwellers wandered from their camp and saved Termite and me.
It appeared that Capt. Swallow and his crew of pyrates had a jolly good time on the M/V BAB.  It will be quite memorable for me having such a great historian on board, along with such interesting characters.
It is my hope that I can block off my calendar this time next year to attend more of their philanthropic pyrate activities, known as NOLA Pyrate Week.  After it was all said and done, the pyrates raised funds and donated them to the Barrataria-Terrebonne Estuary Foundation.
How absolutely appropriate!
Ahoy, mate!
BW