The Lord giveth, and the Lord taketh away.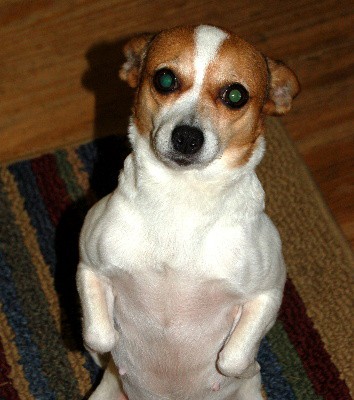 About 6 years ago, my two oldest sons came home from town with a cute little dog in hand. "Don't bring that dog in here. DO NOT BRING THAT DOG IN THIS HOUSE!", was my solid reaction. The whole time, Daboo was holding her muzzle in his fingers saying,
"Look at that sweet face, Momma. You know you think she's cute. You can't turn your back on that cut little doggie."
And then, I was a goner.
The day she found them, she was chasing them down a back road, running with all her might. Danno spied her, and told Daboo to stop the car. When they opened the door, a thin, dirty, shivering doggie jumped in.
Once home, she was quickly and appropriately named Baby, and a baby she was. She would whine and whimper for your attention. She would cuddle and be held up to your shoulder, just like a baby. She soon became our watch dog, and protected all of us with fierce dedication. I've never had dog like Baby before. I know they all have personalities, but this dog had more than her fair share. Every dog lover who came to visit fell in love with her and often wanted to take her home. I'm not sure there's another dog in the universe quite like our Baby. We will really miss her.
The pain of this tragedy will hit again tonight when my son with Down Syndrome asks, "Where's Baby" when he gets ready to go to bed. I've already told him what happened, but I don't think he understands. If you pray, we could use a couple of those tonight around 8:30.
If there's a doggie Heaven, I know Baby is there.
And thank You for letting her find us.
By the way, the yellow dog is back again . . .
BW
PS: Miah, my DS son, took the loss very, very well. This morning he said he wants another pet like Baby. I guess that's a good sign. Thank you for your prayers.