The last time we took a look at the beginning of the new house, it looked like this . . .
Due to weather conditions, and the builder working on another house up the bayou, the pilings stood there tall and strong waiting for our home to be built upon them.  They were patient and steadfast.
And early in the morning, watching the sunrise break behind our home site, my eyes beheld this lonely sight . . .
those faithful pilings still waiting out there in the foggy morning.  On my way inside to get more coffee, I thought I heard the sound of a woodpecker.  There near the front yard on the utility pole, was a red-bellied woodpecker hammering away.  Soon after, I heard much louder hammering coming from the backyard.
Turns out it was two men were back there knocking the bracing off the pilings in preparation for the next building step.  Woo hoo!  I was excited!
That would be the notching out of the pilings.  This little guy had one of those looking glass thingies on a tripod that showed him some kind of level line.  He started with the shortest piling and got his height set and he commenced to cutting with that chain saw.  Chain saw?  That's right.  What other kind of saw would go through a 10-inch by 10-inch piling?  Certainly not a circular saw.  I guess an old fashioned two-man saw, but who uses those any more?  I was quite impressed with his skills.  I'm not sure how he got those lines so straight, but they must be perfect to receive the upcoming beams.  I didn't ask him how many times he's done that, but he certainly has done it a time or two before.
And he did them all, nice and neat and straight and level and plumb.  I was very pleased.
Here they are . . . all ready for the beams that are coming up next.  At this point, there is no "sky lift" to raise these 26-foot long, 4-inch x 12-inch beams.  I have no clue what they weigh, but I know they are heavy.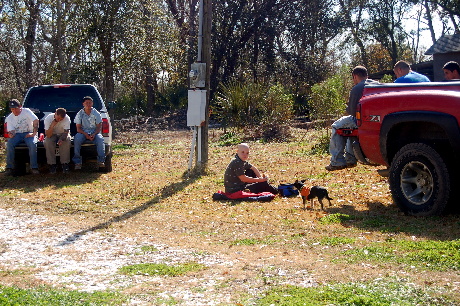 The two guys broke for lunch and were soon joined by another work crew and Miah with his lunch box and peanut butter sandwich (which he made himself!).   (What is wrong with my camera is what I was asking myself at this point. )
I had a few things to do inside, and before I could say, "Beam Me Up Scotty" those guys somehow managed, with their bare hands and strong backs, to get all those beams up on the pilings.
Fortunately, I got back out there with my camera just in time to see how they did it.
Six of them carried the beam from a pile off screen to the right, and then hoisted it onto the scaffolding.  Then they very carefully hoisted it up into the notches and held it there while one of them drilled holes with the biggest drill bit I've ever seen on the end of a gas motor drill, which I've never seen before.
By mid afternoon, the pilings all had beams bolted on.  Now, the beams lie atop the pilings, waiting to be joined by their joists.
Since then we have had rain, and my understanding from my builder is that he doesn't like to start "blacking in" unless he has several consecutive days without rain so that none of the decking gets wet.  Well, I appreciate that, but I am sure ready to get a move on with this house.
Let's go ahead and order the materials for the next step AFTER the joists, because you are going to be in for a big BW surprise when you see what it is!
Thinking my camera needs a professional cleaning,
and anxious for the weather to cooperate,
BW