It's been a long time coming, and I feel like I haven't really sat down and visited with y'all in forever. This has been a whirlwind summer for our family, especially for me. It was a landmark summer as well, with major life events–some good, some not so good; but we're only going to talk about the good. Is that okay?
First, before anything else, I want to thank my lovely, generous Dotter for planning such a fulfilling summer for Miah. On Mondays she took him bowling, and every Wednesday morning, they volunteered at My Heart's Desire no-kill animal shelter. He learned how to clean cat cages and food bowls, sweep, mop, and then as his reward after all his hard work, he got to walk his new friend, Pedro. Dotter took him swimming a couple times, and to the movies several times. And before I knew it, it was time for school to start, which he did just this week. This is his second year at Terrebonne Career and Technical High School in their Food Service program and his last year in the public school system.
So, how about a little recap? June was a blur to me, guiding four fishing charters with some fantastic fisherwomen. Also in June I wrote 3, I repeat THREE, grants as part of work at my part-time gig as executive director of Keep Terrebonne Beautiful (one of which we were awarded this month). June 30th also found me racing to meet another writing deadline–my third in a series of four natural history articles for Country Roads Magazine.
As I said in the comments section of a previous post, the birds and squirrels got all the figs; first because they just didn't taste very good this year, and second because I was just too dog gone busy to do anything with them. So, I'm grateful the figs weren't up to par. Not sure why that was since we had plenty of rain, but the tree had an overabundance of big leaves this year. Regardless, lots of other folks had bumper crops of figs and found the fig preserve recipes here, which makes me very, very happy!
July was the month for birthdays for my son, Dan, and me. My third child, Dan turned 27, and I'm starting to feel really old. He's now the youngest full-fledged tugboat captain in the Enterprise Marine fleet, and I am very, very proud of him.
This was also the month that I did a rare thing–I hopped on a plane and flew up to Little Rock to spend a few days with my high-school friend, CK. She and I reconnected at my first Bayou Woman Adventure in June 2012, and she returned this June with two of the veteran BWA attendees. My trip to her happened during a cool snap, and the weather was amazingly divine. We played Thelma and Louise (except for the ending) and hit the back roads up to Altus, Arkansas because I wanted to visit the Wiederkehr Vineyard there. Who knew there was one, much less three vineyards in the beautiful hills of Altus?
The flight back touched down in Houston, and while taking photos as we descended, I wondered intuitively if Capt. Dan was down there on his tugboat. Turns out, he was, and no doubt the plane had passed right over him. Although too short, the trip was a much needed refreshing, relaxing break from the norm, enabling me to return home with a fresh frame of mind and renewed energy. I'm more grateful to her than words can express.
August brought lots of surprises with it–one of which was a visit by an explorer by the name of Dale Stewart. We had only communicated via Facebook, but when he said he was coming down here to explore the wetlands, see the loss, and connect with the Houma Indians, I knew I wanted to help him. He spent a few days at the camp as his base while I set up interviews with the Houma people, as well as French and Cajuns, for an upcoming series on his radio show, Nature's Edge.
We took a boat ride at the end of which my I-phone jumped out of my pocket as I jumped out of the boat back at the dock. He went in the water and searched around in the soft, silty bottom for an hour trying to retrieve it. Oh yes, it was wearing a Lifeproof waterproof case, but it sank like a brick, never to be seen again.
During his stay, he shared stories of his adventures paddling the Amazon and living with indigenous peoples; but his most recent paddle of the four rivers of the Water Trail of Tears was the most interesting of all. Like many folks I've queried about this topic, I thought all the Indians east of the Mississippi walked to Oklahoma. To learn more, be on the lookout for the release of his book and a documentary, both with the same title – Four Rivers.
In the midst of Dale's visit, my friend Kim, the jewelry maker, (who makes my signature Gar scale earrings and wrap bracelets) came for a short visit. It's always great to reconnect with Kim's gentle spirit and positive attitude. Since she's a canoe and kayak paddler, hiker, camper, and all around outdoor woman, she and Dale swapped lots of stories, comparing notes, having been to some of the same places in their paddling journeys. Her visit wasn't long enough, but it never is. Together we designed a new Bayou Woman fish bracelet, which she will weave on her bead loom after she settles back at home in beautiful New Mexico. I can't wait to see the final result and show it here on the blog. The rest of our time was spent exploring and bird watching. Below are two of our great finds. (As always, you can click on the photo to see larger image.)
And if those two adventurers gracing Camp Dularge weren't enough excitement, after three long years of waiting, the demolition crew finally showed up to take down the old house the day after Kim arrived. Wow! What an amazing undertaking! I have a great series of photos to share with you in a separate post, but these two show the before and after. It's utterly astounding how so much square footage of wood and metal can be reduced to a pile of rubble in minutes.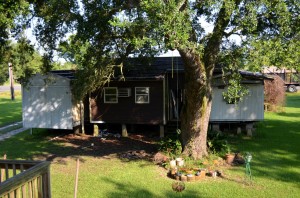 But if my August hasn't impressed you yet, here is my Pièce de résistance. August 8-10th was the 69th Annual Conference of the Louisiana Outdoor Writers Association, of which I've been a member for about eight years. As my good fortune would have it, the conference was held in Houma again this year, as it was in 2011. The event kicked off early last Friday morning with a fishing trip for big reds with Capt. Bill Lake. All I had to do was jump out of bed and drive down the road a couple miles and jump on his boat. We had a phenomenal fishing trip, catching our 5-person-5-fish-each limit of red fish by 9:30 a.m. I plan to write an article about that trip, so I'll spare you the details now other than to say I had a blast fishing with such a skilled guide on his boat! I think the smile on my face says it all!
Lil Sis was able to join me for the rest of the conference weekend, sharing in the fellowship and rejoicing over my awards. Yes, awards! I will now unashamedly proclaim to y'all how proud I am that the two articles I wrote this year for Country Roads Magazine received first place prizes. To make the victory that much sweeter, something I wrote for y'all, "How Do You Like Your Eggs?" received a first place award in the Electronic Division. Having my hard work recognized by outdoor writer judges from another state (in blind judging, by the way) spurs me on to keep writing.
I've been calling this a banner weekend for me, and indeed it was. I guess I could say it's been a banner summer, all the way around, except for the figs, of course. With Camp Dularge having its best summer of rental business yet, what more could a girl ask? Well, there is something else I'd like to do, which has been a dream for over a year now. This week an opportunity that would make this dream come true presented itself to me. It's still a bit premature to share that with you, but believe me when I say that when this comes to pass, you will be some of the first to know.
So, I leave you with that little teaser, because life away from this desk is calling to me, and I must heed the call. I've so much more to share with y'all, and this has just really been a summary. Now, as always, I want to know what y'all have been doing this summer. And to our new readers, I truly mean that. I expect to come back here tomorrow and read the highlights of your summer wherever you are in the whole wide world!
Riding high and smiling wide,
Bayou Woman