Dewberry and Blackberry Cobbler
It's that time of year again, and this is one of the most popular recipes in the Bayou Woman's Recipe Box.  Although we have a few more berry bushes than we did last year, they still have not recovered from the salty flood waters of Hurricane Ike, 2008.  I didn't have time to pick the few that ripened last week, but many of you are picking berries to your heart's content, and I am as green about that as I can be.
Since I can't make my own cobbler, I'll post this recipe again in hopes that all of you will make it and enjoy it for me.  Then, please be kind enough to come back and tell us how you and your partakers enjoyed it.
Dewberry and Blackberry Cobbler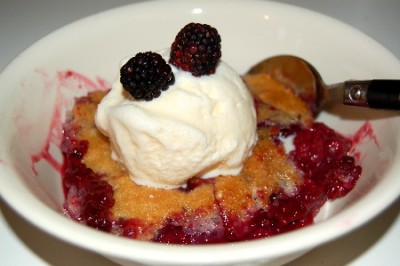 Print Recipe
Ingredients
Filling:

1

QT

ripe berries

1

Cup

water

1

Cup

sugar

2

T

butter or margarine

2

T

flour

Crust:

1

C

flour

2

tsp

baking powder

3/4

Cup

sugar

3/4

Cup

milk

2

T

butter or margarine
Instructions
Preheat oven to 350 Degrees.

In 9 x 13 glass baking dish add 2 T butter, put dish in oven and melt the butter, while you make the berry filling below.

Filling:

In saucepan, mix water, sugar, and butter or margarine and boil. Lower heat.

Add 2 T flour to thicken. Whip with whisk to remove lumps.

Simmer on low heat, until desired thickness. Do not scorch.

Crust:

In a large mixing bowl sift together the flour and baking powder.

Add the sugar and milk.

Mix well and pour into the baking dish that has 2 T butter or margarine already melted in it. Pour berry filling gently over the entire surface. DO NOT STIR.

Bake at 350 degrees for about 40 minutes, until crust on top is golden brown.
BERRY FILLING:
SELF-CRUSTING COBBLER: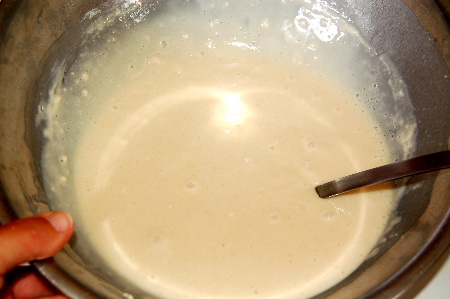 Serve warm with vanilla ice cream or whipped topping and garnish with fresh berries. 

This is a delicious spring dessert that does justice to these wonderfully tart berries. Enjoy!
BW