How to eat a boiled crawfish . . .
First, hold the head with one hand, and hold the tail with the other, and twist the head off (or the tail, whichever you prefer!!).
Next, suck the head and discard on your pile.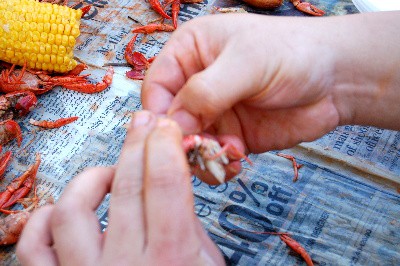 This next step can be done two ways. This photo shows the way the amateurs do it. Holding the tail, peel off two sections of the tail, exposing about a half-inch of meat.
At that point, you can either pull the meat out of the tail or you can pull the rest of the shell off the meat.
But the experts skip the pulling off of sections of tail.
After breaking the head, they go straight for the meat, pulling it out with their teeth like this. That's how you know the crawfish are boiled just right. They come right out of that shell!
And all you have left is an empty tail!
The next lesson will be on how to eat the claw meat. So, come back soon, cher!
Save it on Pinterest.