The weekend began with these guys getting ready for a kayak fishing tournament.  The weather Saturday morning was just not that inviting for any  kind of fishing; much less the kind where at some point in your trip you have to paddle against 35 mph winds.
As I traveled down to the island for breakfast, I could see them parked in different spots, all pondering whether to brave the elements or not.
After breakfast, they began to appear like wading birds out in the marsh.
About mid morning, the guy with the homemade canoe told me he had enough of the wind, he hadn't caught one fish, and he was calling it quits.  I think he packed up and went home.
There was this young man from Alabama who fished all day long.  Not even the winds could keep him from giving it his all.  Sweet Magnolia can get a good look at kayak fishing from this photo.  (Some models even have foot peddles like bikes so you don't have to paddle all the time.)
By early afternoon, fishermen began to emerge from deep in the marsh, looking hopeful that their bag held a prize-winning fish.
These two even had the energy to race for the camera.
Back at Boudreaux's Motel, the weigh was taking place.  In the case of a tie with a certain specie and weight of fish, the first man who signed in and got in line would take the prize.  And they had some pretty good cash prizes to offer.
You have to excuse me, but I was momentarily frightened and then very distracted by this guy's feet.  I mean, they really scared me.  I'm sure ALL OF YOU have seen a pair of these, but little ol' sheltered me?  No way!  When I told him his feet were scary, I think he was offended. After all, he paid $70 for those things.  Wow!
So, there they were.  About 75 people stood in line waiting to weigh and measure their catch, with more arriving by the minute.
I don't know this guy, but he caught a nice flounder that must have taken some sort of prize.
And there, in the midst of all the chaos . . .
sat this bag.   It just sat there.  All alone.  No one touched it.  No one looked in it.  I was bending to get a closer look  when someone shouted, "NO!  Don't you DARE look in that bag!"
This guy must have been the Kingpin Kayaker, because all 109 of those people seemed to know that was his fish bag and that in it was contained the mysteries of how to win a kayak fishing tournament single handedly.
I mean, I was wondering if maybe I should bow down and kiss it or something.  I watched as the owner of the bag stared at the weigh table as each ice chest or fish bag was emptied and weighed.
It was something like watching a game of poker.  Though he watched with great intent, he never let his expression reveal if he had a better catch in his canvas fishing vault.
The weigh-in took so long, and the wind was ripping so cold through there, that I had to leave before the winners were announced.
I hate to leave you hanging like that, and I guess you were wondering what happened to the mystery man with the magic fishing bag, right?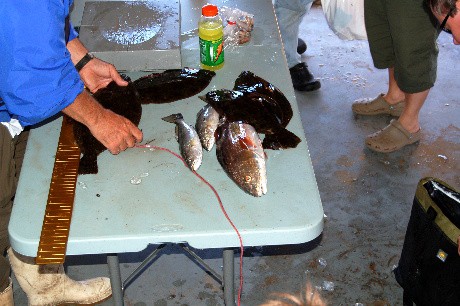 Well, this was his catch.  When he opened that bag and began to place his fish on the weigh table, you could hear the rumbles and whispers throughout the place.  This guy clearly had a reputation that demanded respect.
It's what they call a slam:  One redfish, one speckled trout, and one flounder (except he had 5 flounder).  And I'm not sure how all that works, but the total weight of his catch, plus one extra pound for having a slam, put him in SECOND PLACE.
He won a huge wad of cash (I don't have his permission to say how much) and a $350 carbon whatever kayak paddle.
And can anyone guess who he was?
Here's a hint:
He's somewhere in this photo!!  HA!
And somewhere in this one.  I'll help you narrow it down.  He's not on the stairs!!!!
To be continued again